Dr. Cindy Wahler's new book, 20 Effective Habits for Mastery at Work, provides leaders with a personal roadmap for navigating the new world of work. Leaders will be equipped with key actionable behaviours that are paramount whether you are in the early stages of building your career or are keen to develop more advanced skills to take you to the next level.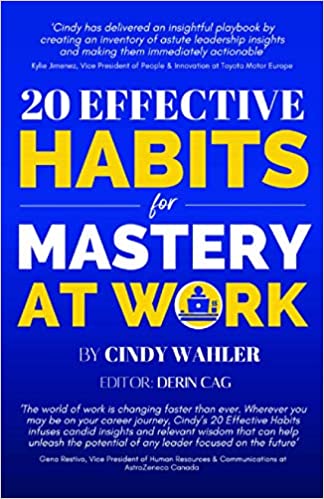 Discover the secret behind why habits are significant to becoming successful in shaping your personal vision and reaching your goals effectively.
Dr. Wahler shows you how to succeed in your career, and not by random acts, but intentional living. Discover how to do deep work with joy in the new virtual world of work, and how actionable habits can foster success through raising leadership skills to the next level. Rewire your mindset with these powerful habits for mastery in today's changing working world.
"Dr Cindy Wahler and I have worked together for years. She is brilliant in coaching and developing executive individuals and teams. She has helped me strengthen the talent in the organizations I have led to come up with the best strategies, business models and execution/operations approach. I find her directness so refreshing and she has a great sense of urgency and is diligent in achieving goals with her clients in this fast moving and changing world."
"Anyone trying to be a better leader, teammate, mentor, communicator and contributor – in business, at home and in life – can learn from Cindy Wahler's 20 Effective Habits. She brings the challenge into sharp focus with a blend of common sense, unique insights and personal experience, distilling what's important and what isn't for those who want to be their best."
"Wow, so thankful to have such an important book come into my life right now. I've already been changing negative patterns and implementing tools to achieve a higher level of success than I thought possible. I recommend this book to anyone who really wants to make lasting behavioral changes that will lead to achieving more goals consistently!"
"Cindy Wahler gives a comprehensive overview of the habits you will need to succeed in your career and provides useful and accurate action steps on how to build these habits."
"20 Effective Habits to incorporate into any workplace. Succinctly written so you can quickly review, analyse and improve working practices and leadership habits. Must have skills to foster a harmonious working environment for all."
"Cindy has delivered an insightful playbook by creating an inventory of astute leadership insights and making them immediately actionable."
"The world of work is changing faster than ever. Wherever you may be in your career journey, Cindy's 20 Effective Habits infuses candid insights and relevant wisdom that can help unleash the potential of any leader focused on the future."
"Cindy and her sound advice have been instrumental in taking my career to the next level. Her wise counsel and approach to complex situations are always welcome. I have always felt that Cindy is able to think strategically with the ability to see the depth of human truth. I feel that my successes are a direct result of her support. Words cannot express my gratitude for her guidance, advice and care."
"Cindy Wahler gives us an easily comprehended roadmap for developing and practicing those personal behaviors at work that will deliver the multitude of rewards that flow from a winning workplace culture. Great executives and managers build great teams by building great cultures. Cindy tells us how these 20 individual behaviors become the essential building blocks of great workplace cultures."
"Cindy captures the very essence of leadership, offering a practical, straightforward guide that provides a pathway for implementing essential skills in the workplace. This book is a must read for those aspiring to leadership as well as for leaders looking to enhance their effectiveness."
"A motivating workplace culture is at the heart of every successful organization. It also requires relentless nurturing. What Cindy offers in 20 Effective Habits is a tangible, practical set of essential habits and insights leaders can turn to time and again to stay on the right track." 
"Cindy's insights on what makes a successful leader are always spot on. Invaluable strategies for those who want to improve their effectiveness."
"Today's business world demands not just business skills and industry knowledge, it requires a mastery of the self. The best leaders carve out time to cultivate self-awareness, emotional intelligence, and a critical suite of "soft" social skills. This book is an excellent companion on this lifelong journey."
"Dr Cindy Wahler's 20 Habits lay out a clear action plan for behavioural change to drive workplace success, informed by deep experience of coaching senior leaders to higher levels of performance for themselves and their organizations. Cindy's wisdom and engaging communication style ensure that the reader will take away practical and actionable lessons that can be put into effect in any setting."